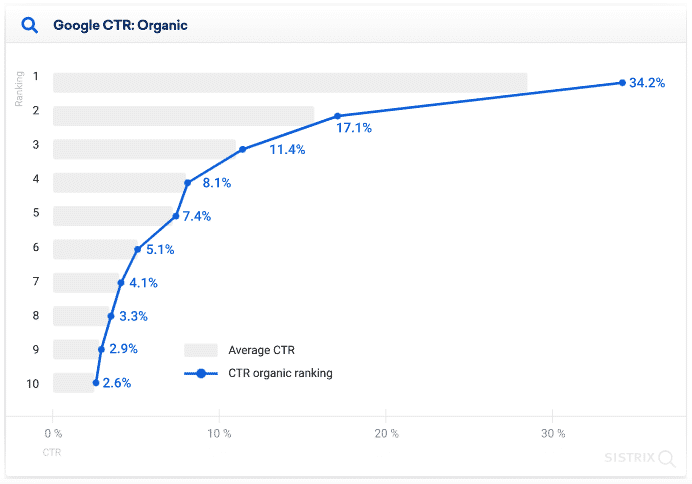 Why you should regularly review your competitors SEO presence for target keywords
What are competing law firms doing to generate fee-paying clients with SEO that you're not?
This is a question you should be asking yourself regularly.
Something that a good friend (and SEO genius) once told me has stuck with me ever since…
"SEO is about outranking your competitors for the right keywords, and that's it"
There can only be a single #1 ranking on page 1 of Google for specific keywords…
And you want that to be you…
Rather than a competing law firm…
In fact, according to smartinsights.com, you'll get twice as much traffic ranking #1 compared to #2…
And it goes down ever further from there…
Rank #1 – 34.2%
Rank #2 – 17.1%
Rank #3 – 11.4%
Rank #4 – 8.1%
Rank #5 – 7.4%
So, what can you do to ensure you consistently outrank competing law firms?
Consistently analyse their site in relation to the keywords that you want to outrank them for…
This is something we do regularly for our SEO clients…
And you can do it too…
Here are the key things we look out for…
How quickly does their site load compared to yours?
If it's faster than yours, speed your site up.
Have they increased their backlink profile with high-domain authority websites within your industry?
If they have, do what you can to achieve a backlink from the same site and go out and find another to do one better (more on backlinks from our friends at Julian Goldie SEO below)
Do they have a regularly updated blog area that makes them appear like an authority in their area?
If they do, it's time to build some content!
Continually reviewing your competitors…
Particularly ones that outrank you for your targeted keywords...
Is a vital part of your ongoing SEO Strategy.